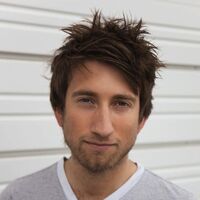 Gavin Free is an employee at Rooster Teeth and is the inspiration and voice actor of Vav. Gavin is also a core member of Rooster Teeth's Achievement Hunter, with the gamertag "GavinoFree".
Gavin, like his character, is British. This is further shown by Vav's symbol being backdropped by the Union Jack, the flag of Free's home country the United Kingdom.
Gavin himself cosplayed as Vav at RTX 2013, alongside Ray as X-Ray.

Gavin's girlfriend Meg Turney would cosplay as a female Vav alongside Ashley Jenkins as a female X-Ray at a later RTX.
External links
Edit